BE CLEAR ON SAFETY!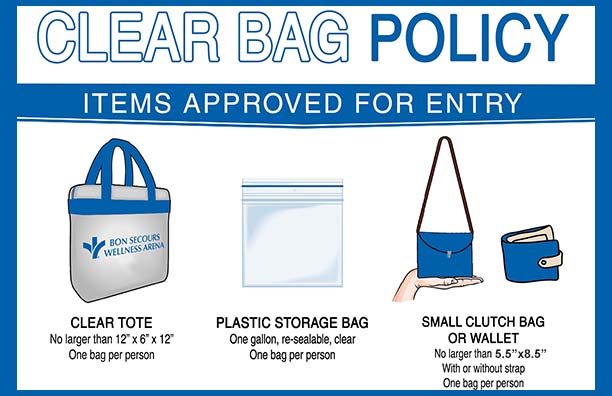 The Bon Secours Wellness Arena has a clear bag policy. Complimentary clear bags are available on a limited basis to guests attending events. Advance notifcation regarding this policy is provided to each guest via email if tickets were purchased at the GSP International Airport Box Office or Ticketmaster.com
Each ticketed guest will be permitted to carry one large clear bag, either a Ziploc style bag or a 12"x6"x12" (or smaller) clear bag, plus a small wallet or clutch that must not exceed 5.5"x8.5". The small wallet or clutch must be carried into the venue outside the clear bag and is subject to search.
"The safety and security of our guests is of utmost importance at our events," says Beth Paul, General Manager of the Bon Secours Wellness Arena. "Many of our patrons may already be familiar with this process, as it is used by many arenas + college and NFL stadiums."
Clear bags provide another layer of security with less inconvenience to our guests as they are easier and faster to search. It also supports the Department of Homeland Security's "See Something, Say Something" campaign.
Approved bags include:
Bags that are clear, vinyl or PVC and do not exceed 12"x6"x12"
One-gallon clear plastic freezer bags (Ziploc bag or similar)
Small clutch bags, with or without a handle or strap, that do not exceed 5.5"x8.5"
An exception will be made for medically necessary items after proper inspection upon entry.
Prohibited bags include, but are not limited to:
Purses larger than a clutch bag
Briefcases
Backpacks
Cinch bags
Fanny packs that are not clear and exceed size restriction
Diapers and other baby supplies can be carried in a clear bag. Each member of a family, including children, is allowed to carry an approved clear bag and a clutch purse into the arena.
Touchless Weapon Detection
The safety of our guests and performers is the Arena's highest priority. We employ a variety of security measures, some of which are not as visible to the public, including an advanced weapons detection system. Visitors will move quickly through security checkpoints at a seamless pace, knowing they're well-protected everywhere inside the venue.

The Evolv weapons detection system combines powerful sensor technology with proven artificial intelligence (AI), security ecosystem integrations, and comprehensive venue analytics to ensure safer, more accurate threat detection
How does this policy improve public safety?

Clear bags provide layers of security with less inconvenience to our guests. As guests walk toward our events, staff can easily spot prohibited items and have the ability to resolve issues before they even get into line. The clear bags are easier and faster to search, greatly reducing faulty bag searches. It also supports the Department of Homeland Security's "See Something, Say Something" campaign. Additionally, inside the venue, staff members know that a clear bag has already been searched and that any non-clear bag without a security tag requires their attention.

How does this expedite my entry into the venue?

This policy enables us to move guests through our security checkpoints faster, allowing staff to be more efficient and effective in checking bags that are brought into the venue. A standard size bag eliminates the need for bag templates to check sizes. In short, shorter lines mean fewer hassles, all while guests enjoy an improved sense of safety.

How many bags can each person bring into the venue?

Each ticketed guest can carry one large clear bag -- either a one-gallon Ziploc-style bag or the 12" x 6" x 12" clear bag -- plus a small clutch wallet (5.5" x 8.5"). The small clutch must be carried into the venue outside the clear bag and is subject to search.

What happens if I show up at the gate with a bag that is not permitted?

Guests carrying bags that do not meet the criteria will not be admitted to the venue. They may return their bag to their car or will be provided a one-gallon Ziploc-style bag into which to transfer their belonging before entering the venue. Transferring items to a venue-provided bag requires the disposal of the non-approved bag.

Can I bring my purse?

Most small clutch wallets, with or without a handle or strap, are permitted along with either the 12" x 6" x 12" clear tote bag or one-gallon freezer bag.

What about diaper bags?

Diapers and other baby supplies can be carried in a clear bag. Each member of a family, including children, is allowed to carry an approved clear bag and a clutch into the venue.

If I have certain items that I need to bring into the venue for medical reasons and they won't fit in the clear bag, what do I do?

Guests carrying medically necessary bags or equipment into the venue will be required to have their bag/equipment inspected and tagged by Event Staff Supervisors at each entrance to the venue. Event Staff Supervisors will be prepared to inspect bags at each main entrance. Bags that have been inspected will be tagged with a wristband. This will also apply in situations when a guest participating in the event (such as a child bringing their hockey bag to skate during intermission).

Do I have to put everything I'm carrying into a permissible clear bag?

No. This policy is designed to limit only the type of bags carried into the venue, not the permissible items that are brought. In their pockets or jacket, guests can carry keys, makeup, feminine products, phone, wallet, credit cards, etc., if they choose not to put them in a clear bag or clutch (5.5" x 8.5").

Does this policy apply to me if I'm working at the event, not attending as a guest?

Event staff and personnel will continue to enter the venue through designated gates. These individuals and any items that they bring into the venue will be screened and tagged, showing that the bag has been approved.

How do I know I'm Safe?

Every visitors is scanned head to toe via touchless weapons detection. The Evolv weapons detection system combines powerful sensor technology with proven artificial intelligence (AI), security ecosystem integrations, and comprehensive venue analytics to ensure safer, more accurate threat detection