Bon Secours Wellness Arena Announces New Partnership with Carolina Chevrolet Dealers
Wednesday |

Feb.

2

, 2022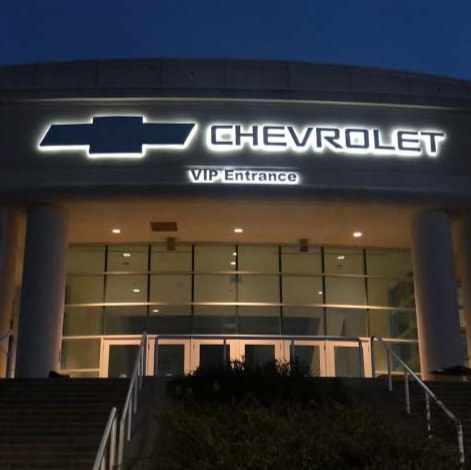 Carolina Chevrolet Dealers and Greenville Arena District have announced a 3-year partnership, anchored by the "Chevrolet VIP Entrance" at Bon Secours Wellness Arena in Greenville, SC.
The multiple year partnership includes signage and advertising entitlement rights to the VIP Entrance of the Bon Secours Wellness Arena on Church Street. To kick off the partnership BSW Arena, the multi-purpose arena, which hosts hundreds of annual events and serves as the home of the ECHL's Swamp Rabbits, will unveil signage and entrance renovations at the new "Chevrolet VIP Entrance."
"Partnering with The BSWA is the perfect opportunity for the Carolina Chevrolet Dealers to promote our brand alongside one of the premier entertainment venues in the southeast. We are extremely excited for this opportunity." -Richard Kay, President, Carolina Chevrolet Dealers
Much like the hospitality car-buyers receive at Carolina Chevrolet Dealerships, fans will enjoy a seamless entry experience into the arena from the comfort of the Chevrolet VIP Entrance. The new entrance will feature touchless security, weapons detection and ticket scanning technology; effectively eliminating person-to-person contact on entry into the Arena.
"Through this agreement we are strategically aligning ourselves with one of the most trusted automotive dealership groups in the Upstate and Western North Carolina. The Arena provides year-round marketing opportunities to Carolina Chevrolet Dealers including activation, vehicle displays, high-profile signage, and access to world-class live entertainment ", says Beth Paul, General Manager of the Bon Secours Wellness Arena. "The majority of Arena fans live and work in the same geographical areas that the Dealers serve, and Chevrolet brand will be at the forefront of live entertainment in the Upstate."
ABOUT CAROLINA CHEVROLET DEALERS: Member dealerships include Asheville Chevrolet, Autostar Chevrolet, Clinkscales Chevrolet, Countryside Chevrolet, Friendship Chevrolet, Gary Russ Chevrolet, Greenlight Automotive, Kevin Whitaker Chevrolet, Mike Hovart Chevrolet, Parks Chevrolet, Richard Kay Chevrolet, Scenic Chevrolet, Spruce Pine Chevrolet, Sunshine Chevrolet and Woodruff Chevrolet
ABOUT BON SECOURS WELLNESS ARENA: Located in Greenville, SC, the Bon Secours Wellness Arena is a 15,000-seat sports and entertainment arena that hosts live events including family shows, sporting events, concerts, minor league hockey, seminars and conventions. Club seats, party suites and luxury suites with premium services concierge are available in the arena. The Bon Secours Wellness Arena is managed by the Greenville Arena District.